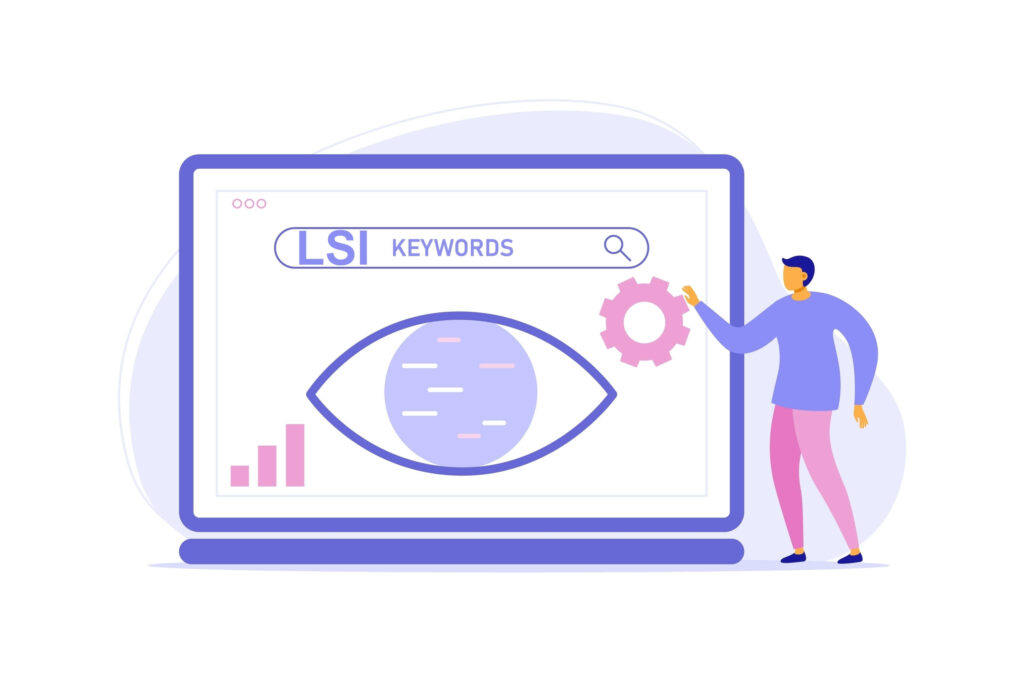 Everything is transforming, and SEO is not an exception. The efficiency of traditional SEO methodologies is decreasing. Clogging the text with keys in 2023 is a relatively useless activity. A solution to this is LSI.
What are LSI keywords in SEO?
LSI in SEO is absolutely any key with the same sense that is displayed in the search in response to a user's request. Simply saying, LSI is a thematic (associative) core. Nevertheless, they are not just keywords or synonyms. LSI (Latent Semantic Indexing) is the strategy through which search engines realize the completeness of the disclosure of the topic.
LSI words are a crucial element of the LSA algorithm. It was designed in the USA in 1988 and was first utilized by American engineers. In the 2000s, search engines performed somewhat differently. The principles of operation were straightforward: maximum re-optimization. Search engines examined the degree of compliance of the site with the user's request. Count the number. Materials "pumped up" with keys were completely unreadable. However, they were on the front lines of the search.
The "fashion" for spam has passed over time, search engines have become more sophisticated, and texts have become more lively and human. The systems have discovered how to determine the intent and type of request: commercial or informational. The LSI method is just implemented for information texts. The richer the associative core, the higher the line the material occupies in the output. Top SEO agencies are now using it in their work.
Practice shows that systems like content with LSI expressions. They believe that such materials reveal the subject, thereby responding to the request as much as possible. In terms of promotion, LSI is the most effective mechanism.
In contrast, there is a contrary opinion. John Mueller (Google employee) claims that LSI keywords do not work for Google. And numerous webmasters agree with him since this method itself is outdated and probably not a component of the technique. But currently, LSI keywords meaning is closer to keywords in SEO or thematic phrases that assist in revealing the topic as deeply as possible and thereby make the page more useful for visitors, which will certainly affect the improved page ranking. Therefore, let's discuss LSI keywords in this sense.
LSI vs long tail keywords
There are several types of keywords in SEO. If LSI keywords stand for only 1-2 words, then there are 3 or more in long tail keywords. They provide less search and less competition, so it's simpler to rank by them.
The most noticeable distinction between these 2 types is the following. Long-tail keywords are an elongated structure of your keyword expression and consist of search requirements like "Why, Best, What, How".
Nevertheless, LSI keys are semantically close to your subject and the main key phrase. To discover LSI key phrases and instruct the algorithm about the user's search, a math expression and search engine methodologies are implemented.
Related search terms and LSI keywords: benefits of using for SEO
The importance of keywords should not be underestimated. Using special keys, search engine robots can recognize indexed text. They recognize what it refers to and where it has to be attributed.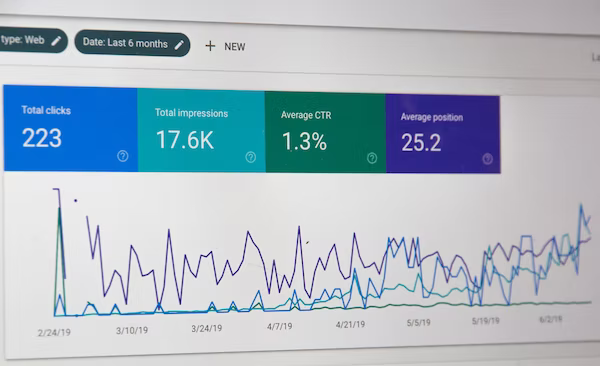 Search engines are created to display pertinent information on a given subject for Internet users. In addition, they Keep a close eye on whether the material exhaustively explains the problem under consideration, for example, whether it contains definitions of industry terms. Thus, using LSI keywords has the following advantages:
Help to specify the user's intentions
LSI keyword tips are a very good hint about what type of material the reader wishes to receive.
But there is still a problem: individuals and search engines have different vocabularies. Users have many more options and approaches to inquire about identical or comparable aspects. It is the reason for constant learning and broadening the dictionary of queries.
The more precisely the user can insert the search query associated with the appropriate information, the better. However, users frequently do not understand what they are searching for so search engines learn to discover associations.
Enable to discover the proper target market
While conducting market research and examining the visibility of key phrases for a prospective or current client in comparison with competitors, you can find gaps in the content. For instance, you may realize that it has no materials for this subject, or that it is not ranked and optimized.
Help increase traffic
It's no secret that the vast majority of clicks occur on pages appearing on the initial results page; in fact, only the topmost result in Google accounts for 30% of clicks. If you reach the top, your site can attract a lot of additional traffic, which can potentially increase sales.
It is critical to stay focused on the appropriate keywords and prepare enhanced content that responds to user inquiries. But too many website owners focus on the positions and the amount of words on the web page instead. Placing one keyword on a webpage is more reasonable than placing 100 keys in the first position. Read more about how to find and choose your focus keyword.
How to find LSI or get related keywords?
While selecting the proper keys for writing content for SEO, you should think about:
  •   instruments for searching by popular keywords,
  •   the most common customer requests.
Let's stop for a moment on the second point.
Empathy for the customer will allow you to better adapt the content to their necessities. Remember that the users are usually not experts in your industry. They are just looking for info. They do not know many terms. They can have a lot of doubts. If you listen to their queries, you will find ideas for writing SEO articles.
Best LSI keyword research tools
New techniques have tightened the requirements for textual quality on the site. Now the text has to be useful, informative, and expert, without spam words and phrases. But at the same time, the keys "as a fact" do not go anywhere. Their number simply decreases and the quality of the queries used changes. In this scenario, LSI-based search engine optimization services and LSI keyword tools will become assistants.
Google-related searches and autocomplete suggestions
The simplest method for finding LSI keywords that are connected with the main key is to check recommendations. Leading the initial key to search Google itself provides the queries that people drive along with the main theme.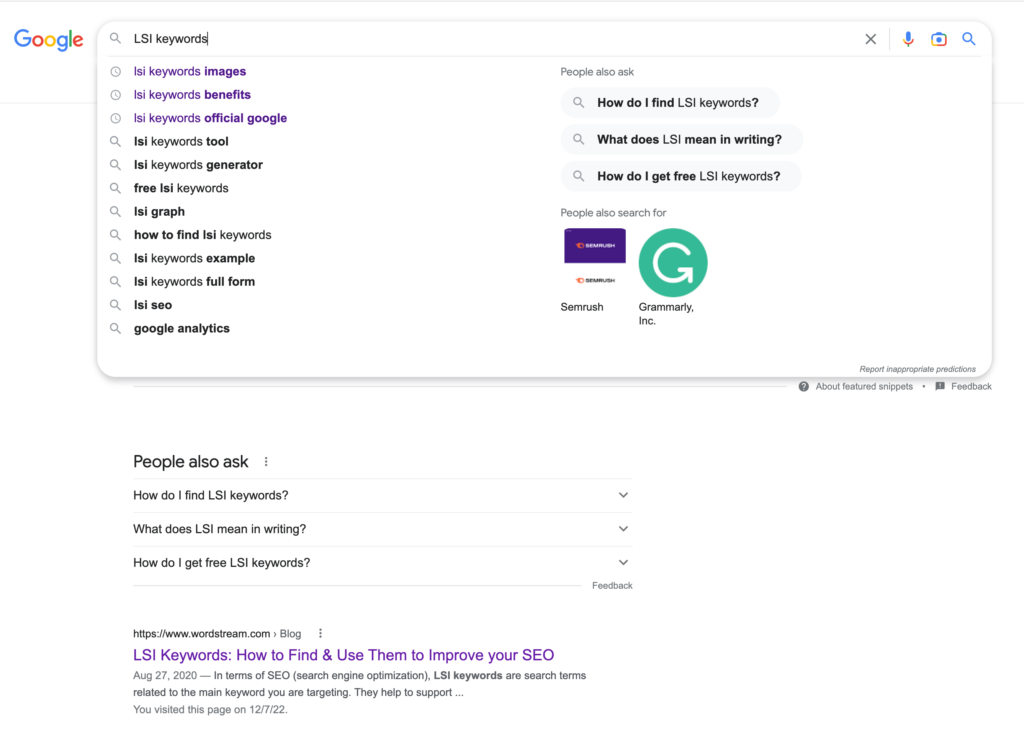 Search recommendations
At the end of any search results web page, the search engine displays google related keywords that users most often request when looking for your key. The plus is that these LSI phrases may not even have the original query in them, but they may be general with it.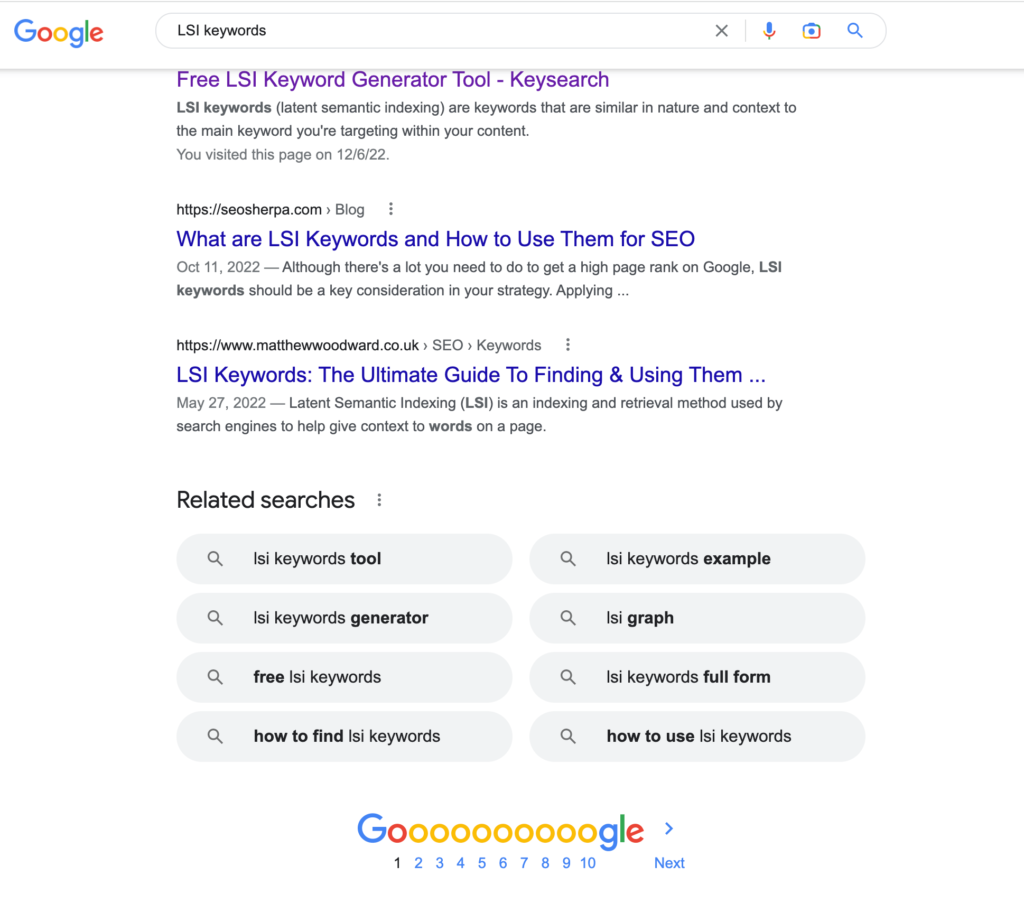 LSIGraph
LSI Graph is one more instrument to find related keywords. Simply insert the main query and get a list of LSI phrases together with SEO statistics that will assist you in choosing the most attractive ones.
In LSI Graph, you can view the search query amount, Cost-Per-Click, and dynamics. It is designed on its measuring system – latent semantic significance (LSV). Also, you can find the materials with the highest score. The links are functional, so you can immediately check the examples of LSI keywords.
Google Keyword Planner
One more alternative is to generate LSI keywords. Some time ago Google's keyword planner, formerly known as Google's keyword instrument, was free for everyone. It can still be utilized for free, but this time it is only available when the Google Advertising campaign is launched. It was originally intended to help users create superior PPC campaigns by offering insights on specific keywords and competition.
Over time, the authors of the writers found it very helpful for researching keywords. It aids in the analysis of LSI words by providing metrics like search amounts and even forecasts for the future for the keyword you selected.
Semrush
Semrush provides an excellent related keywords tool that will help identify potential keys in your narrow niche and, most importantly, allows you to rapidly evaluate the keywords that your rivals implement in their activities. This solves a wide range of tasks within the framework of digital marketing, as it is a fundamental contribution to a successful SEO strategy.
Using the Semrush service you will get the most detailed info about keywords and semantically related words and give you the opportunity to examine competing sites and understand whether it makes sense to advance on particular queries.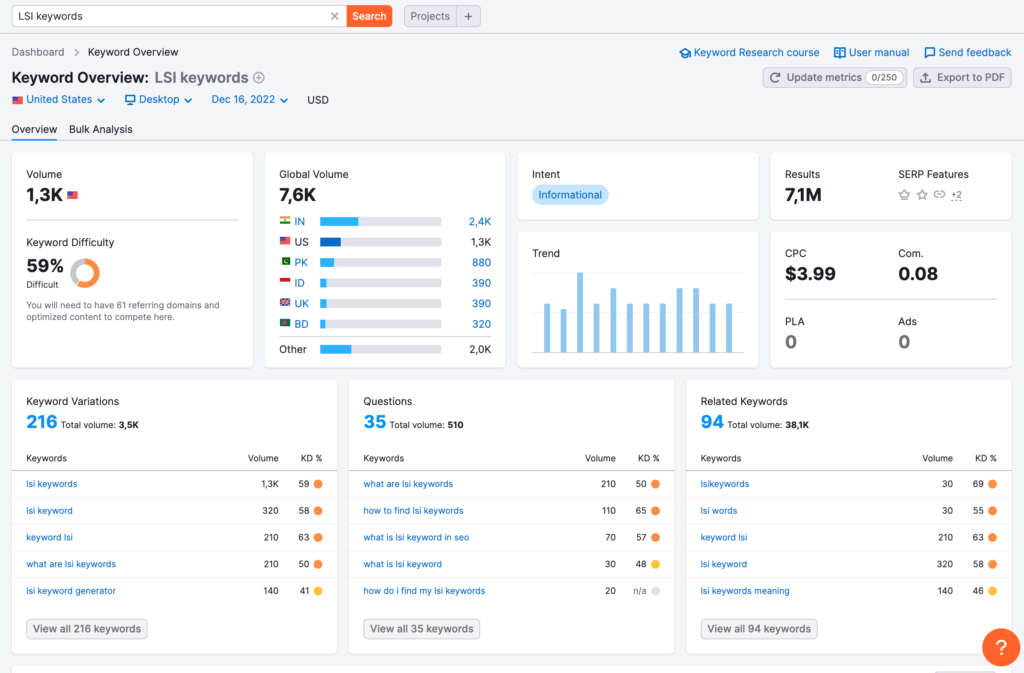 How to use LSI keywords?
The keyword generation tools described above will make it possible for you to gain search opportunities for your content. So put them into action and gain SEO pluses.
Decide on which LSI keys are the most applicable to your subject
Prior to selecting an option on how to integrate good LSI keywords, you must first consider choosing the best of them. Determine which ones are most fitting for your theme. For instance, if you're going to write a text with the main keyphrase "blog SEO," the instrument you're using may give you LSI keywords example, like:
  •   SEO blog topics
  •   SEO blogs for newbies
  •   SEO benefits of blogging
  •   and so on

Utilize them in the proper places

Headings:

Google attaches great value to them, so using these relevant keywords will enable you to better comprehend your content's context.

Images:

Use them as the file name and ALT tags for the images you will use in the content.

Introduction and Conclusion:

Use them in the first 3-4 sentences at the beginning and in the final paragraph so that Google knows what your content is about.

Emphasize context and readability

Some content creators include LSI tags with no sense. This is a blunder. LSI key phrases can help with good content. Nevertheless, randomly implementing them into your material will have no effect.

Utilize your main key within the first section of your writing

The greater the significance of a keyword, the earlier it should appear. Try to put your main key in the beginning. Then, within the upper part of your article body, use the most essential LSI key phrases. You may need to modify the format of your text to accomplish this.
Read more about

how to optimize content for SEO

.

Final thoughts on using semantically related keywords

LSI keys assist search engines to recognize unscrupulous content authors and try to grasp the content's interpretation of the resource. Systems "cling" to LSI phrases and, based on their number in the text, conclude their quality.

Also, it needs to be emphasized that the usage of LSI is not a guarantee of success. And even more, so that you will have interesting material on your site. Utilizing LSI keys, you can spam text just like with ordinary SEO phrases. And publish an "advertisement" for the algorithm for searching, not valuable material.

But the interesting text is a guarantee of the top lines in search engines. At least since it will often be referenced from third-party sources. This means that it will get more external links. You may also use

SEO content creation services

as an option for promoting.

So the main thing is to fill the site with interesting content for users. LSI is still important in SEO and serves as a reliable guide in this difficult task.